Congratulations to the 2023 SURF Board of Trustees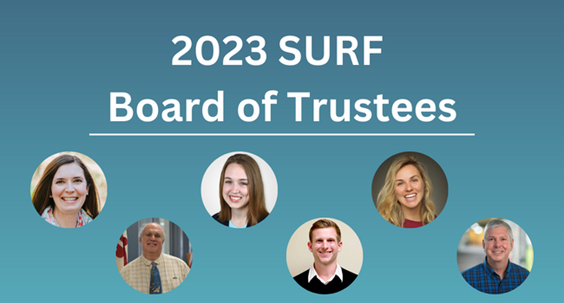 The results are in! Revisions to SURF's by-laws passed and the following nominees were elected to the SURF Board:
Officers:
Gerlinde Wolf, President (Ramboll)

Katie Elich, Vice President (Woodard & Curran)

Paige Molzahn, Secretary (Jacobs)
At-Large Trustees:
Ira May (Maryland Department of Environment)

Jay Smith (Philips)

Evan Starr (Department of Transportation Volpe Center)
Treasurer Nikki Peck (EA Engineering) and At-Large Trustees Scott Anderson (Haley & Aldrich) and Nicole Tucker (Dudek) are continuing in their roles through the end of this year.
Shout out and a big thanks to outgoing Board members for their commitment and contributions over the last two years:
Betsy Collins (Jacobs)

Kyle Waldron (Marathon)

Stacey Hellekson (Woodard & Curran)

Rob Rebel (WSP)

Chris Schultz (Trihydro)

Roy Thun (GHD)
Finally, thank you to all the SURFers who voted!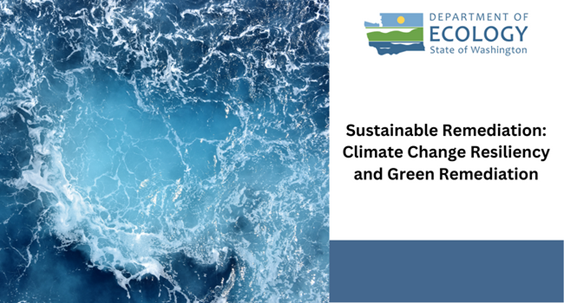 Dive In! Washington State Ecology Publishes Revised Guidelines
In January 2023, the Toxics Cleanup Program of the Washington State Department of Ecology published Sustainable Remediation: Climate Change Resiliency and Green Remediation, a revision of the guide originally issued in November 2017. The revised guide covers environmental trends and climate change projections, how to do a site-specific vulnerability assessment, when to consider climate change impacts, and how to increase the resilience of different remedial alternatives. Click here to access the guide.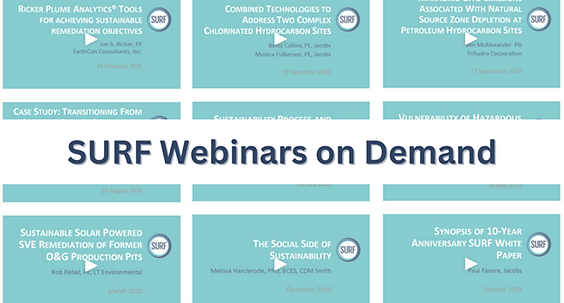 Did You Know? Webinars on Demand
Missed the SURF webinar last week? No worries – check out SURF's website for the recording! SURF's library of webinars includes case studies showing how sustainable concepts were applied to a remediation site. The channel also contains the ever-popular short training videos on SiteWise™ and SEFA (Spreadsheets for Environmental Footprint Analysis).
The Center for Creative Land Recycling website is another great webinar resource. The nonprofit has hosted webinars covering a range of topics – from remediation to environmental justice to community engagement to art and placemaking. Click here to access past webinars.